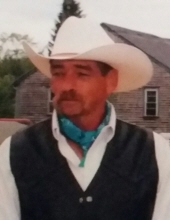 Obituary for Steven W. Gosselin
On this day February 6, 2017, the heavens above have gained another great horseman. Steven W. Gosselin, 63 of North Dartmouth, Son of the late Robert E. and Barbara L. Gosselin, husband to Janice Gosselin, father of Jennifer Rebello, grandfather of Ashley Sylvia, Jacob Sylvia, Ashley Rebello, and Alec Rebello and great grandfather to Jaycee Chicoine. Brother to Sharon Bentley, Cheryl White, Sandra Gosselin and Lewis Gosselin and the late Robert Gosselin, Jr. An Uncle to Melanie Gosselin, Robert Gosselin,Jessica Duarte,Eric Harrison, Crystal Borden Gosselin, Tyler Fournier, Katie Mooney,great uncle to Brianna Gosselin, Lane Pimentel, Madison Duarte, Ryle Jean Audette, Hannah Harrison and Colton Demoranville, passed peacefully at home surrounded by family and friends after a long and courageous battle with cancer.
Steve was a commercial fisherman by trade working most of his life out of the port of New Bedford, but his true passion was with horses. He became a certified Farrier in 1995 and throughout his life learned to dance with the horses. He was an amazing horseman who knew just how to communicate through feel to be one with these majestic animals. He will be most remembered for his ability to work with a horse for only a few minutes and the connection was most amazing. His favorite quote was "Make the wrong thing difficult and the right thing easy".
At this time the family wish for everyone to remember Steve not with sorrow but with life, life within yourself and your horse. Celebrate his life through happy memories not sadness. At this time the family asks that everyone keep them in their thoughts a memorial service will be announced at a later date in celebration of Steve's life.