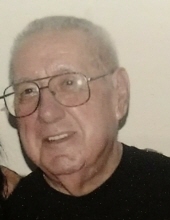 Obituary for Edward T. Silva
Edward T. Silva, Sr. of Somerset, MA passed away on Monday, February 26, 2018.

Edward was born, raised and a longtime resident of Fall River. He proudly served in the United States Army and was trained in advanced artillery. He worked for many years for J.J. Taylor Distributing as a Teamster. He also worked for many other companies such as Bolduc Lumber, Assonet Sand and Gravel, and Sterling Beverage. Ed belonged to the Teamsters Union and was a lifetime member of the Liberal Club. In his spare time he enjoyed motorcycles and watching the Red Sox and Patriots. He will be sadly missed.

He was the cherished father of Edward T. Silva, Jr. and his wife Juli Ann of Somerset and the late Jennifer Silvia; the grandfather to Chari Loveridge, Megan Silva, Frank Silvia and Ronnie Cabral, Jr.; great-grandfather to Armani Silva, and Aidan, Mason, Owen, Devin and Kellen Loveridge and Gemma Silvia, brother to Alvaro T. "Oliver" Silva and his wife Jane, Lorraine S. Rebello and her husband John, Joseph T. Silva and his wife Lorraine and Dolores Duarte and her husband Eugene, all of Fall River; uncle of many nieces, nephews and extended family members.

Services will be private. In lieu of flowers, donations in memory of Ed may be made to the Town of Somerset Veteran's Department, 150 Wood Street, Somerset, MA 02726.