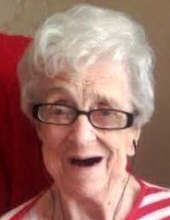 Obituary for Madeleine L. Patenaude
Madeleine L. (Lamarre) Patenaude, 89, formerly of 301 Milliken Blvd. Fall River, died Sunday, January 1, 2017. She was the wife of the late Roland Patenaude. She had been employed as a waitress. Madeleine enjoyed bowling.


She leaves behind two daughters, Vivian Lennon (husband Paul) of Rehoboth and Marguerite Picard (husband Adelard "Del") of Westport; a sister, Germaine Boulay of Fall River; six grandchildren, Steven Lennon, Christine Lennon, Adelard Picard, Jr., Gerard Picard (wife Kelly), Nicole Picard and Richard Picard; four great-grandchildren, Katelyn and Ethan Picard, Connor Picard and Gavin Sullivan; dear friends, Steven and Laurie Rapoza, several nieces and nephews.

She was the daughter of the late Simeon and Alberta (Lemay) Lamarre and the sister of the late Julie Desrosiers and Robert Lamarre. Arrangements were private.