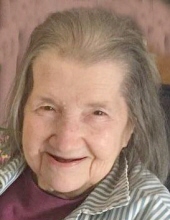 Obituary for Blanche Amancio Ayash
Blanche (Priest) Amancio Ayash, 95, formerly of Fall River, wife of the late Gil Amancio and Charles Ayash, passed away Monday, April 30, 2018.

She was a seamstress for the garment industry.

She was the mother of the late Gil Lawrence Amancio, mother-in-law of Patricia Amancio of Somerset, grandmother of Christie Leetch (husband Billy) and Henry Amancio (wife Gina) all of Somerset and Jessica Dastous of Fall River; great-grandmother of Emily Amancio and Sarah Vezina; sister of Edith Mello of Fall River and Irene Mello of Tiverton and the late Doris E. Lilvard, Priscilla Davis, Harold and Roland Priest; daughter of the late Roland and Blanche (Desrosiers) Priest;
aunt of several nieces and nephews.


Private funeral arrangements were entrusted to the Auclair Funeral Home. Burial was at St. Patrick's Cemetery, Somerset. Online guest book at AuclairFuneralHome.com.