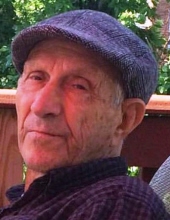 Obituary for Jose Antonio Ramos
Online obituary with photo

José António da Conceiçȃo Ramos, 87, of
Dartmouth, husband of Maria da Encarnacao (Pacheco) Ramos, passed away on Wednesday, April 18, 2018. Born in Spain, he was the son of the late Gertrudes da Conceiçȃo Ramos.
He was a fisherman for many years and a machine operator at North American Rubber Thread, Fall River, MA.
Besides his wife of 64 years, he leaves his daughter, Izolda Ramos of Fall River; three granddaughters, Brianna Carvalho, Amanda Carvalho, and Amy Ramos; and a grandson, Scotty Ramos. He was the father of the late Florival "Flo" Ramos.

Private arrangements entrusted to Auclair Funeral Home.