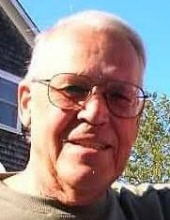 Obituary for Alphonse J. Guerrette, Jr.
Alphonse J. Guerrette, Jr., 81, of Fall River, husband of Catherine (Eckardt) Guerrette, passed away Wednesday, April 18, 2018.


A member of Local 174, Amalgamated Transit Union, he was employed by Southeastern Regional Transit Authority (SRTA Bus Company) for 33 years. He loved fishing, his cats and his dogs.


Besides his wife of 60 years, he leaves four children, Stuart Guerrette and his wife Marcia of Lowell, Raymond Guerrette and his wife Elizabeth of Fall River, Christopher Guerrette of New Jersey and Donna Graham and her husband Mark of Fall River; nine grandchildren, Krysten Wetzel, Katherine Wetzel, Xandria Farrell, Clarence Guerrette, Wednesday Guerrette, Cheyenne Guerrette, Jada Guerrette, Raymond Guerrette, Jr., and Christopher Guerrette, Jr. and four great-grandchildren. He was the son of the late Alphonse Guerrette, Sr. and Adelia (Beaureguard) Guerrette and the brother of the late Henry Martin, Rita Fiocchi, Carrana Guy, and Julia Lapointe.


Private funeral services are entrusted to the Auclair Funeral Home. In lieu of flowers, please consider donations to the American Cancer Society, 30 Speen St., Framingham, MA 01701.