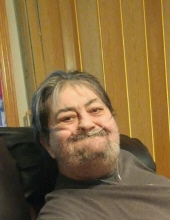 Obituary for Allen G Wichmann
Allen G. Wichmann, 70, of Fall River, entered into eternal rest on February 27th 2018.

Allen was born on October 23rd, 1947 in Wisconsin where he was raised and eventually moved to Fall River to be with the love of his life, Jo-Ann. He was an avid freshwater fisherman and loved to take his daughter Tara with him. He proudly served in the U.S. Navy. Allen worked for over 40 years at the Fall River Gas Company. He will be sadly missed by all who had the pleasure of knowing him.

He is survived by his wife of 38 years, Jo-Ann (Ledoux) Wichmann of Fall River; daughter and caregiver Tara Pacheco and her boyfriend Joey Valero of Fall River; grandson Mason Allen David Pacheco; and his beloved "wigglebutt" dog Bella.
He was the son of the late Harold and Corrine (Uline) Wichmann.

Services will be private. In lieu of flowers, please consider donations in Allen's memory to the American Lung Association, 1661 Worcester Road, Suite 301, Framingham, MA 01701.