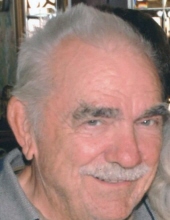 Obituary for Richard V. Dopart
Richard V. Dopart, Sr., 84, of Tiverton, husband of 52 years of Betty Jo (Harpold) Dopart, passed away at home, surrounded by his family on Friday, September 15, 2017.

He was a graduate of BMC Durfee High School, an Army veteran of the Korean War and US Postal Service Letter Carrier in Fall River for many years. He enjoyed gardening, playing golf and cherished spending time with his family.

He was the father of Charles Crites (Elaine), Bridget Chaplin (James) and Cynthia Cartin (Bernard), all of Tiverton, April Chaplin (Keith) of Fall River and the late Richard V. Dopart, Jr.; the father-in-law of Pamela Dopart Baker of Fall River; the grandfather of Derek Crites, James Chaplin (Heidi), Justin Chaplin (Kimberly), Westley Chaplin, Kimberly Cabral (Randall), Alicia Arruda (Ryan), Courtney Cartin (Brendan), Kristen Cartin (Joseph), Ashley Dopart (Greg) and Richard V. Dopart, III; great-grandchildren, Shane, Donovan, Blake, Bailey, CJ, RJ, Kolbe, Ethan and Hunter; siblings, Rene Moniz (George) and Peter Dopart (Dell); and nieces and nephews. He was the youngest of 13 children of the late Peter and Valerie (Drewniak) Dopart.

Private funeral arrangements entrusted to Auclair Funeral Home. Visitation and flowers omitted. Donations may be made to Salvation Army, 290 Bedford St., Fall River MA 02720.