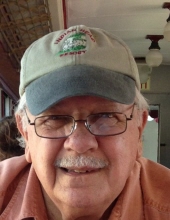 Obituary for Thomas "Tom" Scholes
Thomas "Tom" Scholes, 80, of Fall River, husband of Joyce (Estrella) Scholes, passed away Thursday, September 27, 2018.

He was a coach bus driver for Bonanza Bus Lines, Viking Tours and Fisher Bus Company. He had a passion for food and loved to bowl, golf, make wood crafts and working in his yard.

Besides his wife of 40 years he leaves four children, Robin O' Brien, Donna Bernier, Thomas Scholes, Margaret Lafleur; several grandchildren including Paul Bernier and his friend Kayla Medeiros, stepchildren, step-grandchildren and nieces and nephews; and a sister The Reverend Shirley Andrews.

Private funeral arrangements entrusted to the Auclair Funeral Home.