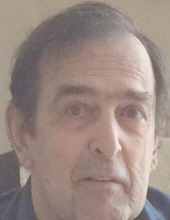 Obituary for Thomas M. Gonsalves
Thomas M. Gonsalves, 76, of Fall River, husband of Marie (Telles) Gonsalves, passed away Friday, March 24, 2017. He was employed by Barton Trimont.

Thomas loved life and was loved by all.

Besides his wife of 57 years, he leaves two children, Thomas Gonsalves and his wife Lisa and Cheryl Gonsalves, four grandchildren, John Rankin, Ashley, Thomas A. and Justine N. Gonsalves; three great-grandchildren, John Patrick Rankin III, Jadiah Spencer and Ayanna Jubah; and a sister, Delores Carey. He was the son of the late Frank and Justine (Moniz) Gonsalves.

Private funeral arrangements entrusted to Auclair Funeral Home.