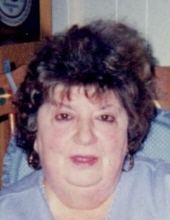 Obituary for Mary J. Jones
Mary J. (Terceiro) Jones, 94, of Fall River passed into eternal life on Friday, July 14, 2017 at Saint Anne's Hospital.
.
Mary had been employed by the former Ann Dale Products for 23 years and Tillotson Rubber and Chemical Co. for 10 years. She was a foster grandmother for 11 years. She enjoyed poetry and art.
Survivors include three children, Robert B. Jones, Beverly Fournier and Mary Lou Jones, all of Fall River, a sister, Laura Medeiros of Westport, a niece, Beverly Medeiros of Westport, 7 grandchildren, 7 great-grandchildren and several nieces and nephews.
She was the daughter of the late Mariano R. and Maria (Viera) Terceiro and the sister of the late Hilda Margetta.

Arrangements are private.