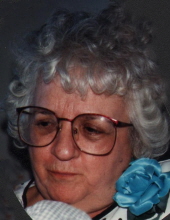 Obituary for Mariette R. Eaton
Mariette R. (LaVigne) Eaton, RN, 96 of Fall River, formerly of Westport, wife of the late Walter J. Eaton, passed away Thursday, April 26, 2018.

She studied at St. Anne's Hospital School of Nursing and earned a Bachelor of Science Degree in Nursing from Boston University. She taught Science at St. Anne's Hospital School of Nursing and taught Natural Childbirth and Family Planning Classes and was a Maternity Nursing Instructor at St. Anne's Hospital. She was also an English Tutor helping adults learn the language.

She leaves three children, Louise M. Huegel, Kenneth W. Eaton and Joanne Brais; grandchildren, Melissa Lynch,
Ryan Eaton, David Brais and Lauren Brais; five great-grandchildren; a sister, Juliette Ceplikas, and nieces and nephews. She was the daughter of the late Ovila and Marie Louise (Jobin) LaVigne and the sister of the late Yvette Cote, Gerard, Marcel and Emile Lavigne and Germaine St.Pierre.

Her funeral arrangements are private.