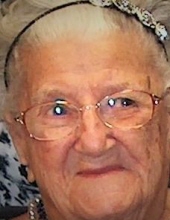 Obituary for Lauretta (Robillard) LaBonte
Lauretta (Robillard) LaBonte, of Fall River, wife of the late Ludger L. "Lou" LaBonte, passed away on her 105th. birthday, Friday, November 3, 2017.

She worked in the garment industry many years ago. A loving, kind and caring person, she enjoyed knitting and cooking.

She leaves two daughters, Pauline Harbaugh (late husband James) of Minnesota and Anne Flavin and her husband Kenneth of Fall River; four grandchildren, 10 great-grandchildren, seven great-great-grandchildren and many nieces and nephews. The daughter of the late Alfred and Anna Robillard, she was pre-deceased by her twelve brothers and sisters.

Her funeral was private. Donations may be made to Alzheimer's Association, 309 Waverley Oaks Rd., Waltham MA 02452.