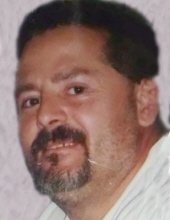 Obituary for James S. Miller
James S. Miller, 48, of Dartmouth, passed away on Wednesday, May 17, 2017.
He was employed as a mechanic at Bob Nichols Auto, New Bedford and John's Auto Unlimited, New Bedford. He was also employed as a commercial fisherman and scalloper for many years. James was an outdoorsman who enjoyed fishing, camping and jet skiing. He loved street racing and was a Chevrolet enthusiast.

Survivors include two children, Eric James Miller (fiancée Catherine Monty) of New Bedford and Paige Miller (fiancé Matthew Monty) of New Bedford;
his fiancee of 25 years, Debra Ward of New Bedford, the mother of his children, Kim Botelho, of New Bedford; two stepchildren, Kristen Ward and Richard Ward of New Bedford, five siblings, Charlene Miller of Marshfield, Cheryl Rogers (husband Gerald Rogers) of New Bedford, Sharon Nichols (husband Robert) of Dartmouth, Janet Miller (companion Ramona Turcotte) of New Bedford and Melanie Sousa (husband Kevin) of Dartmouth; grandchildren, Skylar Monty, Kaylyn and Mason, all of New Bedford; two step-grandsons, Christian Nathan and Benjamin;
nieces and nephews, Evin and Ava Sousa, Glenn O'Brien and Anthony O'Brien of Dartmouth, Thomas Miller of Providence, Cassie Farag, Leah Parker, Daniel Skaza, all of Virginia.
He was the son of the late Henry Lyman Miller and Stella (Piva) Miller, the grandfather of the late Cohen Steven Botelho and Nevaeh Starr.
Following cremation, a service will be held at a later date.