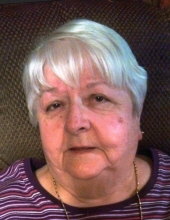 Obituary for Jacqueline (Rogers) Garside
Jacqueline Garside, a lifelong resident of Fall River, passed away peacefully on the evening of Wednesday, the 12th. of July at her home surrounded by loved ones.

Having been born in 1935, she was loved by many. Known to all as "Jackie, she was a dedicated mother, grandmother and wife to the late Anthony "Gus" Garside.

She spent many years happily employed at Globe Assembly. Jackie loved going for rides in her beloved PT Cruiser, listening to the police scanner and cuddling up with her dog, appropriately named "Buddy" and interacting with her beloved friends on Facebook.

She will be forever missed by her children, Linda and Dennis as well as Linda's husband, Alfred and their 3 children - Fred, Rachel and Anthony. She is also survived and will be missed, by her daughter-in-law, Judy and grandchildren, Jennifer and Dennis. She was the daughter of the late James Rogers and Ann Bergeron and the sister of the late Phillippe Bergeron and Lillian Lapre.

There will be a private service for family only. An act of Kindness upon another person in lieu of flowers would be appreciated by Mrs. Garside and her family.