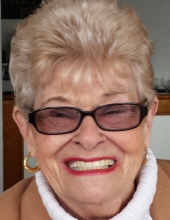 Obituary for Barbara Marques
Barbara Marques passed away on Saturday February 17, peacefully after a long and courageous battle with pulmonary disease. She was the daughter of the late Arthur Borden and Cora (St. Jean) Borden; the former wife of the late Joseph "Moxie" Marques and the mother of the late Arthur Marques. Barbara leaves behind three beloved daughters, Patricia Fitta (husband Edward Fitta) of Fall River, MA, JoAnn Gelfuso of Westport, MA and Deborah Pelletier (husband, City Councilor Leo Pelletier) of Fall River, MA. In addition, she leaves behind two granddaughters: Sarah Fitta of South Hadley, MA and Jennifer Fitta of Dallas, TX. Barbara was employed by the Fall River Public School where she spent many wonderful years as a paraprofessional at the Brayton Avenue School. After retirement she became the director of the Niagara Senior Center for Council of Aging, where she also served on the Board of Directors. Barbara was known for her active support of local politics. She will be remembered for her unforgettable personality and passion for life. She enjoyed spending time with her family and friends. She was an avid traveler, loved cooking, knitting and was the life of the party. In lieu of flowers, the family asks that donations be made to the American Cancer Society in her name.
Her funeral was private. Arrangements by Auclair Funeral Home. Online guest book at AuclairFuneralHome.com.