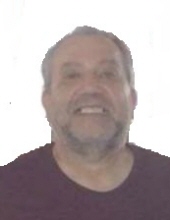 Obituary for Antone Ernesto Ferraz
Antone Ernesto Ferraz, 57, passed away on Saturday, December 10, 2016 at Charlton Memorial Hospital. Born in St. Michael, Azores, he was the son of the late Ernesto and Angelina (Branco) Ferraz.

A loyal union electrican, his life's work involved collecting trinkets and priceless goods; using his skills as a carpenter, and tinkerer to build amazing works of art in his unparalleled vision. Not only was he a great father to his surviving son, Cory Ferraz, he also served his country that he loved in four divisions of the U.S. Military, including the Army, National Guard, Coast Guard and most recently, the Army Reserves.

Survivors include his aforementioned son, Cory R. Ferraz, his brother, Frank Ferraz and his wife Anne, his sister, Marie Estrella and her husband Arthur, and his loving companion, Elsie Matteson, as well as several nieces and nephews, including his godsons Aaron Ballou, Adam Estrella and Eric Ferraz and goddaughter Vanessa Hall.

The Albergaria family, associated with his former wife, Maria Albergaria, also thought of Tony as a son to the late Ezaltina Albergaria, but a brother and loving uncle. He not only will be missed but will also hold a special place in the Albergaria family's hearts, as well as every other person that he has personally touched throughout his life.

His wake will be held Monday, December 12th, from 5:00PM to 8:00PM and Tuesday morning from 8:30 AM to 9:30 AM at Auclair Funeral home in Fall River, MA, with a funeral mass in Saint Mary Cathedral, Spring St., on Tuesday, December 13th at 10:00AM.
Previous Events
Visitation
Auclair Funeral Home & Cremation Service
690 South Main Street
Fall River, MA 02721
Funeral Mass
St. Mary Cathedral
399 Spring St.
Fall River, Massachusetts 02721